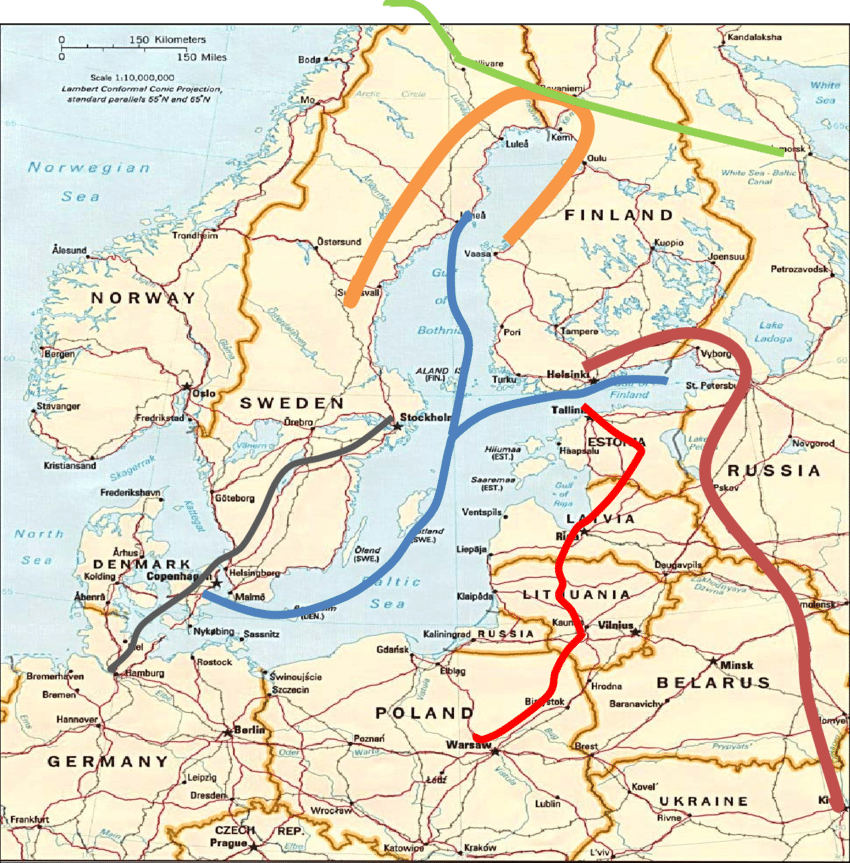 14 Mag
ARCTIC ROUTE IMPACT ON BALTIC LOGISTICS
Posted by: Massimo Merlino in Logistica
Light is beautiful in Kirkenes bay, but more interesting the small Museum of this Norwegian small city on Barents Sea. You can look at history of this area during the second world war, when 100000 German troops were disembarking for occupying the iron mining rich asset of the city, which was totally destroyed. Being at a cross point among Russia, Norway and Finland, in the past governed in common between Norwegian and Russian, Kirkenes lived all the tensions and pains of the war among three main actors engaged in that tragedy. Now very quiet city for embarking cruise to fjords and Bergen through Hurtigruten ships, perhaps it will have a great logistic future, thank you to Arctic route, or North East Passage, more and more feasible because of climate change and 40 Russian nuclear icebreakers keeping open the route to Corean, Chinese, Japanese big container ships. Among the various possible solution to be implemented to reduce negative impact on Baltic traffic, a railway between Kirkenes, Sodenkylla and Rovaniemi in Finland has been suggested to transport containers to Baltic networks, avoiding the probable need of transhipment from Atlantic Norwegian and Danish harbours to small ships entering in Baltic sea.
Arctic route's impact on Baltic logistics can be analyzed in different dimensions – economically, environmentally, and strategically. With the melting of polar ice caps and the increasing accessibility of the Arctic shipping routes, the logistic landscape in the Baltic region is expected to witness substantial transformations.
1. Economic impact:
– The Arctic route offers a shorter path between Europe and Asia compared to traditional shipping routes such as the Suez Canal. This reduced travel time can result in significant cost and fuel savings for companies utilizing these routes.
– Additionally, the Arctic route's opening presents businesses in the Baltic region with new opportunities for trade and economic engagements with Asian markets, potentially increasing international economic cooperation.
– However, as the Arctic route becomes more accessible, Baltic ports may face increased competition from ports in Northern Europe and Russia that could capitalize on the new shipping lanes.
2. Environmental impact:
– Increased use of the Arctic route raises concerns about the environmental impact on the vulnerable Arctic ecosystem. There is potential for increased pollution due to exhaust emissions, waste disposal, and the risk of oil spills from shipping traffic.
– Logistic companies and governments in the Baltic region will need to invest in sustainable methods and infrastructure to mitigate negative environmental consequences, such as using cleaner fuels, advancing green technologies, and adhering to strict safety regulations.
3. Strategic impact:
– The growth of Arctic shipping can lead to the establishment of new logistic centers in the Baltic region to handle emerging shipping volumes, creating new jobs and stimulating local economies.
– Increased interest in the Arctic could cause geopolitical tensions over the control of the region and its resources, affecting logistics, trade, and national security for the Baltic countries.
– Collaborative efforts among Baltic states and neighboring countries will be crucial in addressing challenges and capitalizing on the opportunities associated with these new routes.
Logistically speaking the impact of Arctic Route on Baltic traffic, already 15% of world shipping, may be negative for the need of transhipment from big container ship stopping in Atjantic rim of Norway,Denmark, Germany and Netherland to smaller ships following internal Baltic routes, but progressive adaptation of ports strategies can focus also in new opportunities of traffic with Asiatic countries.